16 Feb: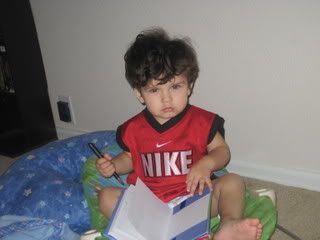 Today Chuck had the day off. It was nice to have him off for the day since it was Presidents day. I was a little upset though because I was watching the little girl. It was really riducilous that they would think they could play me as a fool to think that the banks where open(mom works at a bank). I didnt watch the little girl long because the father got sick. He ended up with the Stomach virus so I didnt have to watch the little girl at all this week. It was so nice to have the week to CJ and I! All I did was just clean and get some laundry going. I swear that the laundry is NEVER ENDING!!!
17Feb: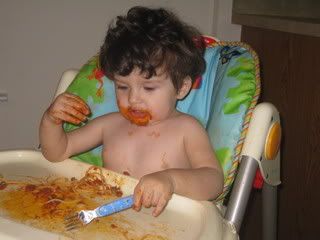 It was a chill day for CJ and I!!! It was just him and I all day long!!! We did absolutely NOTHING and it was AWESOME!!! I made CJ favorite dinner of Spagehetti and of course he ENJOYED it!!! Chuck came home from work and we spent some family time playing with CJ and what not.
18Feb: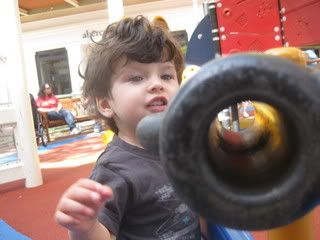 CJ and I met up with the Girls today. We went to La Cantera Mall! It was a nice Beautiful day outside but it was sure kind of CHilly for the sun being out. At La Cantera we took the kiddies to the play area and OMG CJ was in Heaven!! I swear you would like my kid was born in the wild!! He LOVES being outdoors. He was sliding down the slide head first on his belly basically every possible way there is to slide down the slide! Chuck needed me to go get CJs Birth Certificate and I had no clue where to go. So Stephanie was so kind to take me downtown to the place we needed to go. Let me tell you that was an adventure in itself lol. We went to the court house area and that was the WRONG place. They sent us else where. Boy do we hate traveling down town. After like a few hours we finally got the kids birth certificate and went home. Lol we were cracking up because we were going around in circles down town!
19Feb: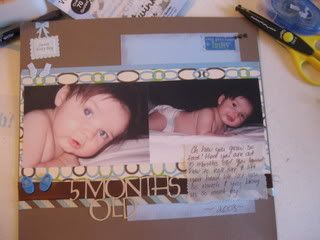 I actually did a little scrapping today!! It was SOO MUCH FUN!! I need to do it more. I just have to figure out how to do it with both of the kids with me. I may have to ask the mommies with two kiddies how they do it. The little girl that I watch sleeps in the guest room(scrap room) and my son in his room. Anyway here is a layout that I did. I also made a card as well. I had a blast!!!
20Feb: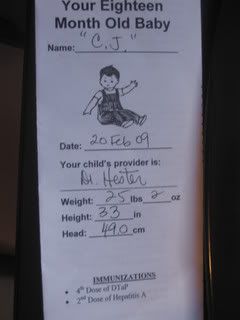 Today was CJs 18month appointment. It didnt go as I wanted it to go. The doctor said that he doesnt know enough words and that he is borderline to her. She wants hin to get a speech evaluation done and get a hearing test too. So I called the speech therapy people and they should call me by this friday. I have no clue when the hearing people will call me to schedule an appointment. CJ is 33in tall and is 25lbs. She wants him to gain more weight!! So I have to watch that and have him eat a ton!! But other then that he did good. I didnt get him his shoots because we are leaving town tomorrow. He will get all of his shot on March 18th.
21Feb: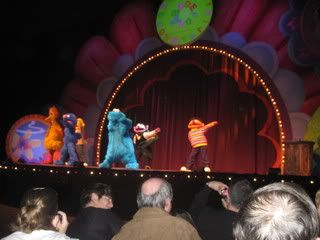 So I couldnt just pick two pictures! We talked to Waco, Tx to take Cj to Sesame Street Live!! It was totally AWESOME and worth it!! We got rid of our tickets when we got there! Our seats where AWESOME as well. We were in row 4 from the stage!! CJ was dancing and having fun!! He got a toy and a shirt. He also wanted a $10 balloon but that didnt happen at all. I would tell any parent to take their Child to see Sesame Street Live it was so cute. I even enjoyed it!
22Feb:
Well it was a chill Sunday! We love our sundays to be pretty chilled out. We went out to Breakfast with my hubbys friend and it was some good food!! We stayed at home played some WoW, went outside, I read some of my book, did a couple of loads of laundry. CJ was surfing the channels and he found NASCAR! He was so drawn by it. It stood still and watched it for about a half hour. It was too cute he was just standing there with his mouth open looking at the cars go by. It was fine by me he was quiet and not getting into trouble!!
23Feb: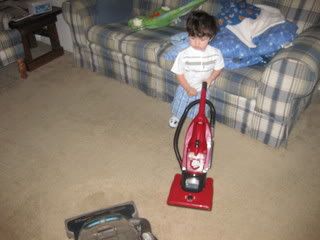 So cleaning is a never ending thing in my house! With two kids during the day I have to keep on top of them. Then my BIG Kid comes home and makes more of a mess. So I am literally cleaning all day if I feel up to it. This Morning I was Vacuuming and CJ got a play Vacuum for v-day from his Grandma so here he is helping me vacuum the loft. Isnt that so cute. I am trying to teach him young so he is not the typical lazy future husband, lol. We will see how long it will be before he finds pretend cleaning is no fun at all. Maybe he will be a great healper once he is older! But I did accomplish my month of clean clothes that were piled high downstairs, they got folded and put away!! Yay me!! I hate folding laundry but hey someone has to do it!!
Well I think we are caugh up expect for todays pic of the day.