Ok this is another HUGE post. This month has been Super Busy for us. I cant believe that its almost over in a few days!!
4 May:
Happy Anniversary!!!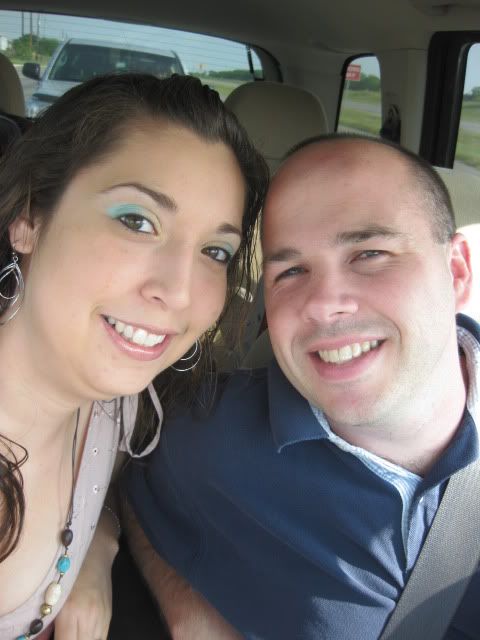 Today is our 2nd year anniversary of being married. I can't believe how fast time goes. Two years has flown by. We have had our tough times and our wonderful time and yet we are still holding strong and loving eachother more everyday. We went to Rudy's BBQue for dinner. We had that for our wedding day food and Chuck took us there for our anniversary dinner. It is some super yummy good. I look forward to all the years we have ahead of us. I love this man to no end!!
5May: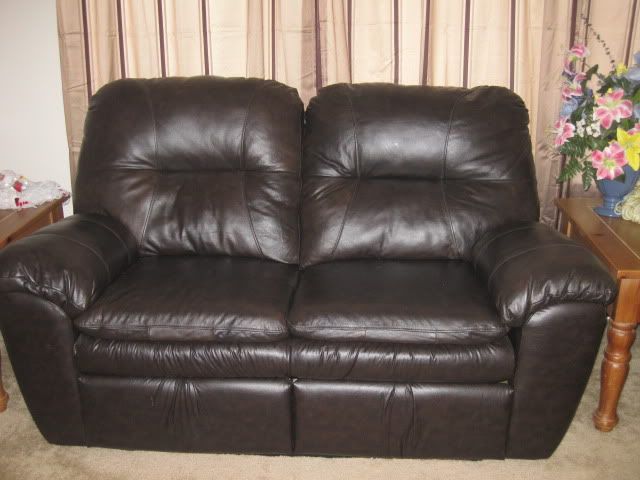 I have been cleaning all week getting ready for the in-laws to visit next week. Well here is my couch! All clean of all clean laundry! Do you know what that means? I spent ALL day folding and putting away all of the clothes that seem to consume this couch. I hate folding clothes, lol. I dont mind washing them but ya folding and putting them is another thing, lol. I was so happy that I got my couch cleaned and ALL of our clothes are clean. YAY, go me!!
This day was also a tragic day. My day did not start out good at all. I woke up to a blood turning scream and then a few minutes later a ton of cops showed up two doors up from my house. The scream that I heard was a scream no one ever wants to hear or experience. I heard a lady scream "My Baby!" It really scared me so bad. I looked out to see what was going on but I couldnt see anything. All the worst possibilities came in my head. I honestly made my self sick thinking about what happened. The cops where there almost all morning. I couldnt just sit in the house any longer. As I was getting the kids out to the car I saw my hubbys friend walking by. I talked to him and he had told me what happened. The worst thing that anyone could do took place two doors up from my house. His friend had took his own life and left his son behind and his own mother was the one that found him. Oh I just wanted to cry. It was such a rough day. It was just so hard for me. I wanted to do something but didnt know what to do. As soon as Chuck got home I gave him the biggest hug ever and basically as much as I could I held CJ.
6May: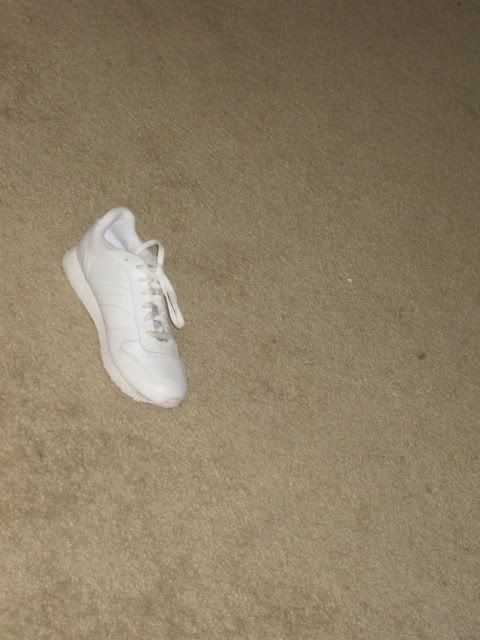 My little photographer took this picture. CJ LOVES to take tons of pictures. He does take some odd pictures but he also takes some good ones as well. He loves taking pictures and being in pictures. Its too cute, funny, and annoying. There are times that I cant take a picture of him because he wants the camera lol. GRR darn that little son of mine, lol. He is very proud of the pictures that he takes and gets super excited about it.
7May: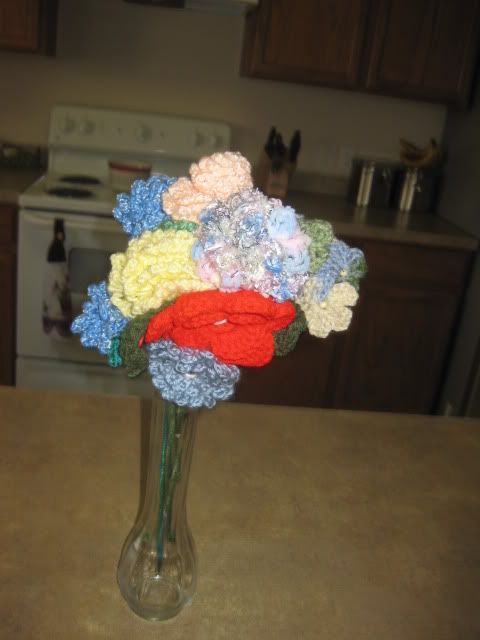 This is my Mother's Day Bouquet from Crocheting Moms group on Cafemom. I joined this swap and it is so cool getting all of the different flowers from the ladies that participated in the swap. It is really beautiful!! It is so exciting getting a package and looking at the neat flowers that came in!! I really love my crochet bouquet of flowers!!
8May:
We had brawts for dinner and Chuck invited his best friend over to have some too. Here they are drunk as a skunk. It was truely funny watching them. I just sat there enjoying the entertainment. Boy they are to funny and talk about off the wall things!! I had fun and so did the boys as well. It was a good evening!
9May:
Daddy Shrek?? No! Its Daddy Chuck!! CJ wanted Chuck to wear his shrek ears so being a good sport thats what he did for his little boy. CJ was having a kick out of it. The things that we do for our children. CJ was happy and laughing at his daddy for wearing these shrek ears. Then CJ wanted them back so he could wear them.
10May: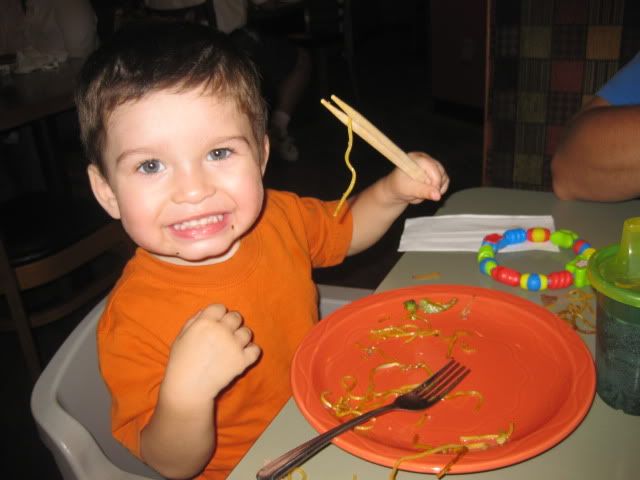 Happy Mother's Day! Can you believe that I didnt take a picture of myself on Mother's Day? LOL! No I did not take a picture of me and there are no pictures of me on Mothers day either. Well we went to the tattoo shops to see if we could find someone to draw Chuck a picture of his tattoo that he wants to get. After that we went to this restuarant called Hu Hot. Its a Mongolian Grill place. We went there once when we first got here and we did not like it. Charley his best friend said it was really good and blah blah blah so we gave it another chance and yes it was horrible. After we got done eating we just stayed at home and chilled out. I enjoyed my day of doing nothing.
11May:
Cleaning, cleaning, cleaning. Thats what I did ALL day. I am so paranoid about my house when I have guests coming over. I cleaned, well deep cleaned the guest bathroom and I dont know what else. I put up pictures that should of been put up like a year ago, lol. They make the house feel like a home. I guess I should of put them up sooner. Well better now then never! CJ LOVES seeing pictures of the family. He points at them and says something and smiles and laughs at them. All I did was clean and put these pictures up.
12May: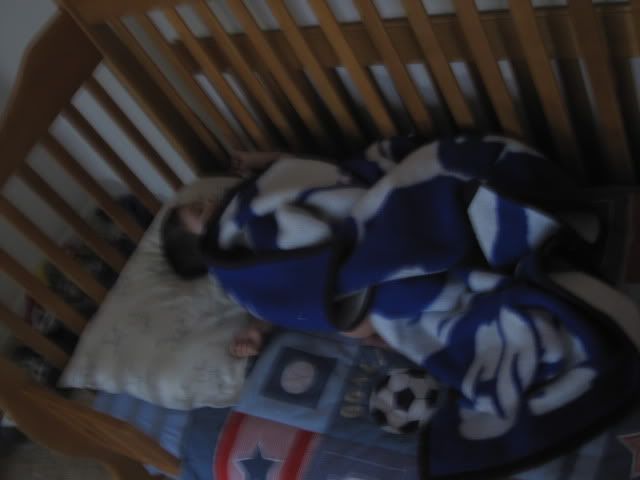 All of my hard work of cleaning has made CJ tired. Its so peaceful when he is napping. He took a good long nap and I cleaned MORE and More. I wish that I was CJ and sleeping and getting some much needed rest. It did not happen because I had some cleaning that needed to get done so my house would be ready for our guests!
13May: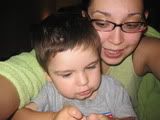 Taking a much needed break from Cleaning. Yes this week is going to be FILLED with cleaning until I am satisfied with my house, lol. CJ LOVES being in my lap or on me. Can you tell he is a BIG TIME Mama's Boy? Yes I love that he is a Mama's Boy but man some days it just drives me crazy because all he wants to do is just HANG on me and I cant do nothing. I love this child of mine to death!!
14May: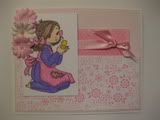 My best card ever!! I made this card for my Mother in Law for mothers day. I LOVE the way the card came out. I got the stamped image for one of my friends off of cafemom. The stamp is just SOOO cute. THis is my FAVORITE card I wish ALL of my cards look this pretty. I also made his mom a paper bag album to go with the card. That came out great as well.
15May: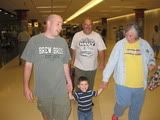 Time to get the grandparents. Here they are!! Chuck, CJ, Grandma and Papa in the back. CJ was very shy at first and wanted nothing to do with them. It took a while for him to get comfortable.which is weird. He came around to them though and just had a blast with his grandparents!
16May: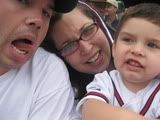 We travelled to Dallas to go see a Rangers Game. Let me tell you this was a SUPER LONG day. OMG It was so long and I wanted it to end, lol. We got up early and left. On out way there I spilt Juice all over my pants and it felt like I had peed myself so we had to stop at a store to get me new pants. On the way there it was POURING. It rained and rained, I was not happy about that because the baseball stadium is open and no retraceable roof either. We finally got there and had fun. It was cold and wet. We headed back home that night which is why it made for a very long day. We had a blast and we were wore out at the end of the day!
17May: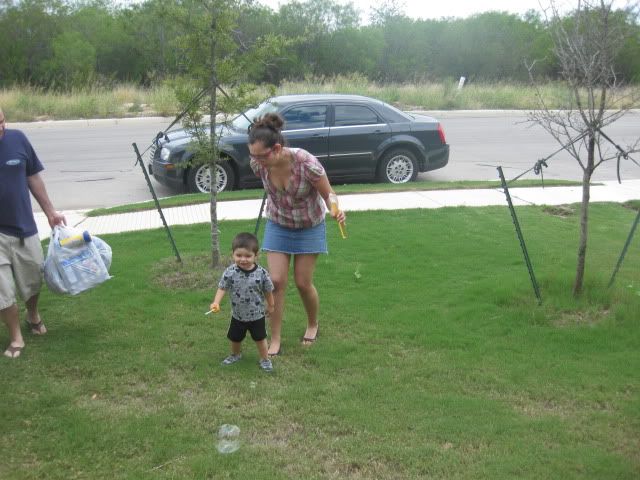 Here is CJ playing with his bubbles that I got him. We went grocery shopping and I saw them for a buck so I was like why the heck not? Its a big wand and he was having fun. Then when it was time to go in he was throwing a HUGE fit. All we wanted him to do was go the the backyard so I would not have to worry about him running into the street. CJ LOVES, LOVES, LOVES bubbles. He gets so excited about it. What is it with kids and bubbles? The little things entertain them the most. How simple is that?
18May: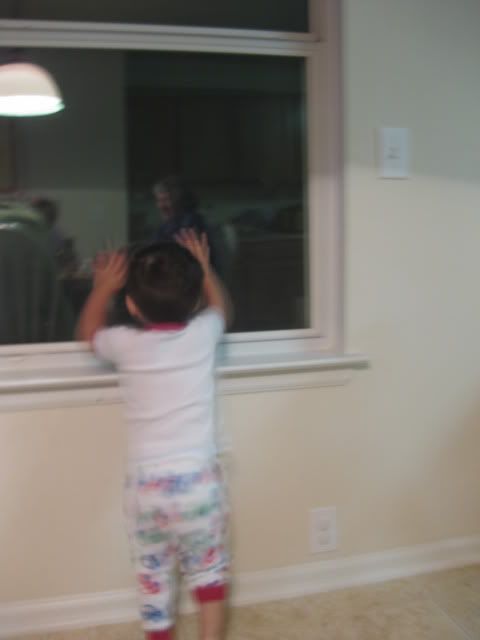 This was super funny! Cj was having a full blown conversation with his reflection in the window! He was laughing and playing with his reflection. It was so funny I just had to take a picture of him. It looks like hes just looking outside the window but he is really talking to himself and laughing. He is just a character and I love him.
19May: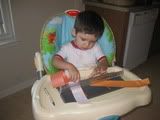 I tell ya this kid has to do everything his mommy does. My mother in law and I where scrapping and guess who wanted to join us as well? Yes you got it right, CJ. So I had to go get him his tools upstairs so he would just be content and leave us to do our scrapping. Here he is working really hard and "cutting" his paper strips. He loves to "scrapbook" lol but some times he gets on my nerves because he wants MY stuff and not his, lol.
20may:
What is it with my son putting ketchup and mustard in his hair? I swear he thinks its either shampoo or mousse. It drives me bonkers when he does this. He thinks its completely hilarious. Theres not to much you can do but just laugh and take him upstairs to take him a bath. He is a silly boy. Everyday he shows more of his funny character. Not only does he like to but stuff in his hair that doesnt belong there but he LOVES to dance to any kind of music and he SINGS! Its beautiful! Makes him look even cuter then what he is!!
21May:
My baby is 21 months!! OMG only 3 more months til he is 2yrs old! I cant believe how fast the time has gone by. He is a super helper. Here he is with his daddy trying to help him grill dinner. I look back at all he has learned and its just amazing to see the progress. He makes me so proud and happy. I couldnt ask for a better child. Can you tell that I love this child of mine to no end?
22May: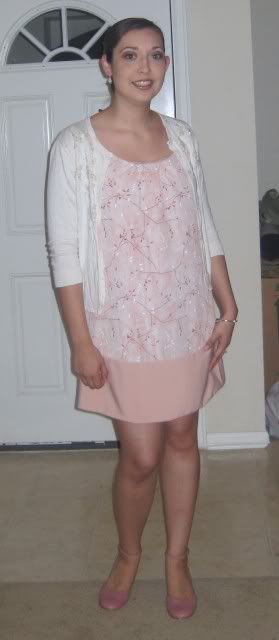 What these pictures dont show you is that my mother in law and I have been working on a dress. It is my FIRST dress that I sewed. It was so fun! I am so glad that she was here to help me out. I understood it but it was just nice to have the option to ask if I was doing something right or wrong. Here I am in my new dress! I am super excited about how it came out. I LOVE IT!!! Chuck and I went on a hot date so it was perfect to wear out. We went and saw Ghosts of Girlfriends Past and Night at the Museum! It was so nice to actually have US time since we dont really know anyone out here to watch CJ for that long. It was just absolutely amazing just to spend alone time with him!
23May: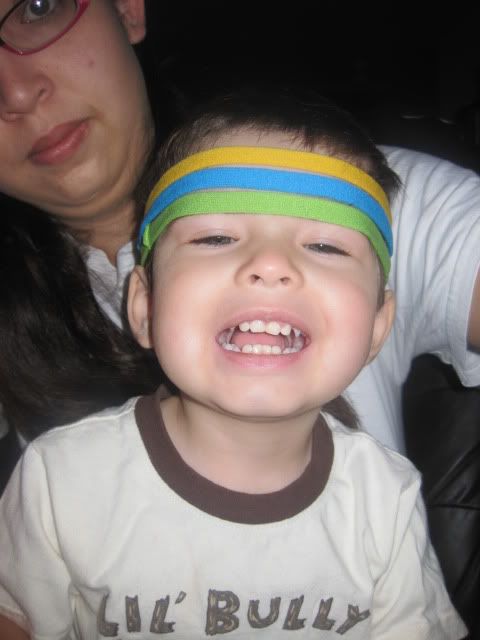 Instead of helping Grandma and Papa pack CJ was getting into their things. Here he is wearing his grandmas headbands. What a silly boy. He thought it was funny to put them on and even hilarious when I showed him what he looked like. He did give them back to his grandma without a fuss. When we dropped them off I think he was a little sad to see that they were not there. He was looking in the Guest room for them and then he walked downstairs to see if they were there. He misses his grandma and papa.
24May: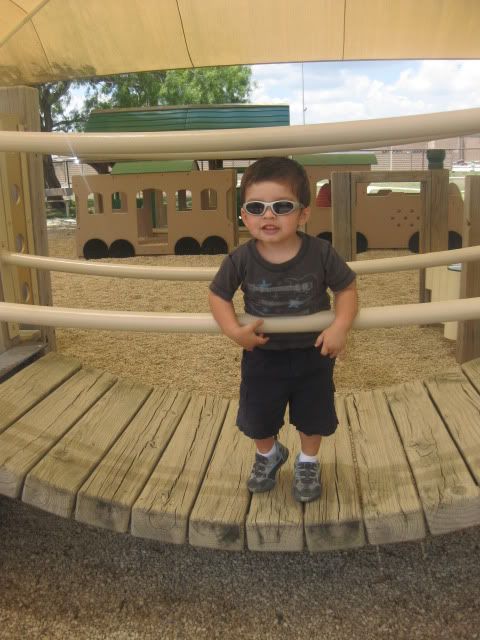 CJ did so well with being and going everywhere when his grandparents where here. So we took him to the park to run his energy out of him. He had so much fun. He thought he was the cool kid on the block. He wore his sunglasses the WHOLE time we were at the park. He has not worn those sunglasses since he was like 7months old. He put them on by himself as well. He just looks so freaking cute!!
25May: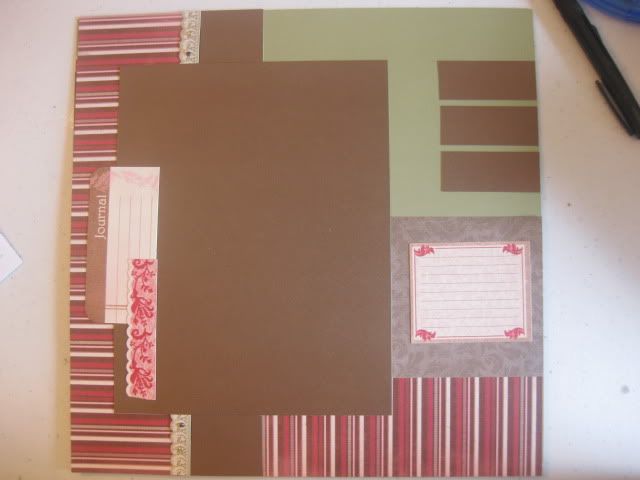 I finished the scrapbook page kit that my mother in law brought for me. There are no pictures on it yet because I have not printed any. It was very fun doing these kits. I actually had fun doing it. I just need to learn how to read a ruler better, lol. The kit made 6 pages and I still have paper left over. I will make the cards out of the paper that it shows me how to do. I just need to find some time for me without CJ.
26May: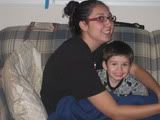 CJ and Mommy getting ready to watch a episode of True Blood. The books are Amazing and the show is great. Its very addicting. CJ and I also met Kelley and Evan earlier today. They are so sweet and nice. I cant wait to hang out with them again. CJ and I had a great time cuddling and watching TV. My mama's boy!
27May: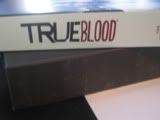 Chuck and I finished the whole first Season of True Blood. It was really good and I was so surprised that CHuck was interested and was watching the show. To bad we dont have HBO because Season 2 is starting and ya I have to wait for it to come out on DVD. We might watch it again, lol.
Ok I am so glad that I finally got this updated. I am a slacker...well not really just have been super busy!